Yinarupa Nangala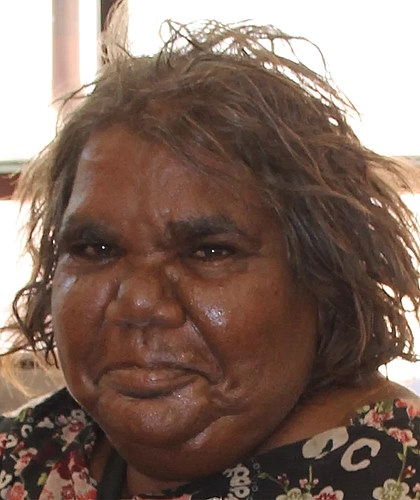 Language: Pintupi
Country: Kiwirrkurra W.A.

Yinarupa is the daughter of Anatjari Tjampitinpa and Mantua Nangala. She and her family were moved from Wutungu rockhole in 1963 by the Welfare Branch and were taken to Papunya. She became the third wife of Yala Yala Gibbs Tjungurrayi and had six children. Yinarupa would often assist Yala Yala with his paintings. Yinarupa Nangala was born in the Kiwirrkura region of Western Australia. She is a second generation Papunya Tula artist, the daughter of the late Anatjari Tjampitjinpa. She began painting in 1996 and in 2009 was the winner of the Telstra and Torres Strait Islander Painting Award for Mukala, the painting of a rockhole site east of Jupiter Well in Western Australia. Her paintings refer to the Dreaming path of a group of Tingari women who travelled through Mukula gathering bush foods. During ancestral times a large group of women came from the west and stopped at this site to perform the ceremonies associated with the area. The women, represented in the painting by the 'U' shapes, later continued their travels towards the east, passing through Ngaminya, Kiwirrkurra and Wirrulnga on their way to Wilkinkarra (Lake Mackay). As the women travelled they gathered a variety of bush foods including kampurarrpa berries (desert raisin) from the small shrub Solanum centrale, and pura (bush tomato) from the plant Solanum chippendalei.
The shapes in the painting represent the features of the country through which they travelled as well as the bush foods they gathered.
Artworks By Yinarupa Nangala